#1 in Riverside
Comfort You Want To Go Home To
Experience the Magnolia Way
Ask Your Neighbors About Us
---
$95 System Check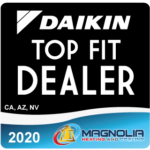 Award Winning Air Conditioning Services near Riverside County & Riverside, CA
Magnolia Heating and Cooling has proudly serviced Riverside since 1951. We provide a full spectrum of repair services for all types of HVAC equipment, including preventative maintenance agreements, due diligence reporting, and fine-tuning HVAC systems for peak performance. Magnolia is known for high-quality installation of systems that perform at the highest efficiency possible. We specialize in system upgrades, replacements, system analysis and load calculations. Magnolia is known as one of the leading residential HVAC companies in Riverside. While we may not be the largest company out there, we are considered to be the best by many. This year, we were awarded with the 2021 Press Enterprise's Readers' Choice Award, and we couldn't be more honored.
Other companies have a "get in and get out" attitude. Magnolia assures customers that their home will be maintained and serviced the right way. Our service technicians are some of the most respected and knowledgeable in the industry. We hire only the best service technicians to make sure you get a pro every time! Our employees are given the best training because 100% customer satisfaction is our top priority. Check out our 3500+ 5-star reviews across the internet, with an A+ rating anywhere you look. The most important reason we're still in business is due to our loyal customers who have referred us to friends, neighbors and family. Our thanks to each of you for helping us get where we are today! Call us today to experience the Magnolia difference.
Interesting Finds with Magnolia Heating and Cooling
Magnolia is here to answer all of your important questions. Below are some frequently asked questions that we can answer for you right now!
What should I know about HVAC Maintenance?
Why does an air conditioner need recharging?
How much should an air conditioner cost?
What should I know about HVAC Maintenance Contracts?
Magnolia Chooses The Daikin FIT
At Magnolia Heating and Cooling, an American made product is important. Electric heating and cooling products are the way of the future, and Daikin has the best overall product line on the market. Our new choice product is-The Daikin FIT; it is a side discharge heat pump with an inverter driven compressor and is a true game changer. The company began installing the FIT systems in early 2020. We have sold more units than any other dealer in California. We have won the Daikin sales leader for the past 3 quarters. You may ask what do customers think of the FIT units? THEY LOVE THEM! We trust Daikin and so do our customers.
A++, recommended.
Amazing service and very knowledgeable staff. Very professional and on time. Prices very reasonable and competitive. They were masks and use shoe protector if needing to go inside the house for inspection. Solved and fixed the problem and then explained in detail the options. All in all, I highly recommend them for your cooling and heating needs. A++
Dependable Company
Courteous, on time, professional, competent service personnel and staff. Efficient in assessing repairs needed and completing work. Friendly people both in the office and in the field. Highly recommended!
Jacob was great!!!
Magnolia Air Conditioning provided excellent service in repairing our HVAC unit in a very professional and timely manner . Our service rep was Jacob was very personable and went way out of his way to get our HAVC repaired and working. He was upfront with costs and worked to ensure parts were shipped overnight to get out unit up and running. Can't say enough positive things about Jacob and Magnolia!
The average life of an HVAC system is 20-25 years. Magnolia Heating and Cooling, this year, has replaced systems from 1940s to 2015s. The quality of the equipment, including the system's craftsmanship, is a contributing factor in a HVAC system's life span. The HVAC system's that Magnolia Heating and Cooling installs last a lifetime. We understand buying an HVAC system is not something we do every day, or every decade. Magnolia Heating and Cooling wants this once in a lifetime purchase to be an experience you will want to remember. We take every measure to meet and exceed the expectations of any home improvement contractor. Getting a new air conditioner or a new furnace is a home improvement whether we plan it, or the HVAC system unexpectedly fails. When considering home improvement, consider the quality of the job. The lowest bid is likely to cut corners. Magnolia Heating and Cooling's entire staff takes great pride in the product and quality we deliver.
We follow every requirement: this includes load calculations prior to the installation, post testing, and inspections. We pass with flying colors. We pull more permits than any other contractor in Riverside! This is not because we are the biggest it is because we do the job right!
Our customers are your friends and neighbors. Research will prove we are the best in the industry.